INSANE STRIPER BITE
The epic fall bass run was one for the ages. Fish hitting live bait, jigs and top water plugs. Overs. Unders. And plenty of slot fish for the table.

FALL TOG FISHING SOLID
The Fall blackfishing season is in full swing. Good action with lots of short life and quality keepers. Fishing local reefs, wrecks and rock pilers. The fishing will only get better as the water temps drop - still in high 50's.


ONE OF THE BEST FALL RUNS OF BASS IN YEARS
Incredible striped bass action right in our own back yard. Big fish to 40+ lbs hitting live bunker as well as top water artificials. There is bait everywhere and tons of marine life too - whales, sharks. More and more slot fish being caught as the migration from east to west contunues. Epic bite.


FLUKE FISHING REMAINS SOLID
The ocean fluke bite was excellent through the month of August/early September fishing depths ranging from 50-90' However, the offshore storms and resulting big ocean heave (which occur like clockwork in September), will have the flatties start their fall migration to deeper water. The bay fluking in September is usually very good as the fish gather by the inlets and main channels before they head out towards the ocean. The presence of bait in the bays bodes well for this fishery.

LATE SUMMER BLUEFISH AND BONITO BLITZ
The bay and inlet are loaded with bait (spearing and peanut bunker) as a result the bluefish have invaded the inshore waterways gorging themselves on these bait fish. Fish ranging from cocktail size to 5/6# class fish. In the ocean, we've seen the best bonito run we've had in years. Fun light tackle action.


FAMILY FUN ON THE WATER
Another Summer full of family fun adventures on the Sea Rogue. Trips ranged from fishing the bay for fluke and blues to hitting the local reefs for non-stop action with the sea bass, scup and more. Fun times were had by all.



OCEAN FLUKE ARE CHEWING
The summer ocean fluke bite is taking shape. Fish have infiltrated the local structure. I'm fishing rough bottom from 50' - 80' of water. There is lots of short life to keep the rods bent all day. Plenty of keepers and boat limits to keep everyone happy. Bigger fish are moving in. August should be a banner month.

SEA BASS, TRIGGERS AND SCUP ON LOCAL PIECES
The local bottom fish scene is in full swing with the uisual suspects being caught on wrecks, reefs and rockpiles....sea bass, scup and triggerfish. Fun non-stop action and delicious table fare. Fun fishing!!!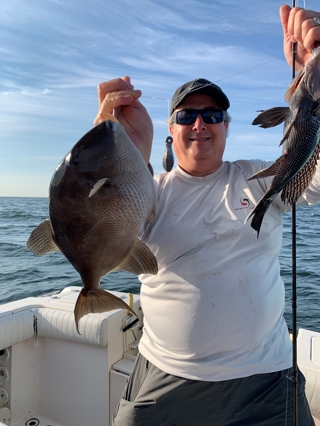 SOME QUALITY FLUKE TO 6LBS CAUGHT
Some nice bay jumbos came over the rail this past week. The fluke bite continues to get better as the water warms up.


BASS AND BLUES IN OUR BACK BAYS
Striped bass and bluefish (up to 10+lbs) and a few weakfish have invaded our local bays. Artificials and traditional clam chumming have been equally effective. Fun light tackle action!

BAY FLUKING VERY GOOD
The flatties were waiting for us as the calendar turned May 1st. Fishing best up in the back bays where the water is warmer. Small baits and bucktails are key as they are feeding upon grass shrimp.


SPRING SEASON OFF TO STRONG START
The local wrecks, reefs and rockpiles are holding nice tautog and codfish. The warm winter has the ocean at the right temps and the fishing will only improve.



TOGGING REMAINS SOLID
The blackfish bite remains strong as we are well into the season, both in terms of quantity and quality. Striped bass are also keeping anglers happy.


EXCELLENT FALL TOG FISHING
The local blackfish bite has been super since the start of the season. Fish being taken on both conventional rigs and jigs. Green crabs are the ticket. On most trips we have been catching our boat limit along with plenty of shorts to keep the rods bent all day.



TRIGGERFISH AND SCUP ARE CHEWING
In addition to sea bass and fluke the local wrecks, reefs and rock piles are holding good quantities of big scup and triggerfish. This has provided my customers great mixed bag catches through the summer and will continue through September.

OCEAN FLUKE
It was a slow start to the ocean fluke bite but things did break wide open in August both in terms of quantity and quality. Fishing structure is the key. On days where the drift was too fast I even anchored on pieces and scored with solid fluke catches. Hopefully they stay around through September. Just have to hope we don't get too many offshore storms which drive the flatties to the deep.


SUMMER FAMILY FUN TRIPS
Our summer family fun trips were very popular again this year. A great way to get out on the water for a solid half day of fishing. The bays and ocean provide a great variety of fish to catch - fluke, sea bass, striped bass, scup and more. Great trips for the kids! Family fun trips run through September.

OCEAN SEA BASSING REMAINS STRONG
The start of the season produced super fishing with plenty of jumbo sea bass being caught. Fishing anywhere from 40-80' of water. As summer progresses we have to cull through more shorts but there's plenty of keepers still around. Sea bass fishing on our local pieces will remain strong
through September into early October before they are off to their deeper water dwellings.


NICE RUN OF SPRING STRIPED BASS
The local bass fishing was excellent. Old school clam chumming was the ticket fishing the right tides in early morning or late afternoons. We had fish up to 30+lbs.Light tackle fun!


HOT START TO FLUKE SEASON
The spring fluke season is off to a terrific start in the back bays. Plenty of fish in the 4-6lb class in the mix with many customers catching their limit. The key is fishing small baits. Bucktails and Poison Tail jigs tipped with Gulp have been deadly. Great light tackle action.

GOOD CODFISHING
The codfishing on the local wrecks, reefs and rock piles has been very good. The bite started in April and continues into May. Every spring it gets better and better. The baccala are responding to both clam and jigs.


SPRING TOGGING '22
The April tog season was a good one on the days we could get out. Mother nature cancelled more than half our trips with her gusty winds and rough seas. When we fished, my customers enjoyed good action with limit catches and lots of rod bending action.Fish were taken on conventioinal rigs and jigs. Crab and clam baits both worked well. Can't wait untyil the fall season.



ANOTHER EXCELLENT FALL TOG SEASON
The fall blackfish bite didn't dissapoint. Unlike prior seasons, the ocean bite took a while to build due to warm water temps. Fortunately, the bay fishing was outstanding both in terms of quantity and quality. Once the ocean temps cooled, the togs started biting in theitr usual haunts. As the season wore on, the bigger fish came out to play with numerous double digit fish. That's a wrap on another great fishing season. See you in 2022!


IT'S JUMBO TIME
As the season winds down, the big fluke are making their appearance. Fishing tight to structure, we had fish to 9.5lbs including a few in the 8lb class. When the drift is fast, I even anchor on small pieces and bail on the fish.

OCEAN FLUKE BITE IN FULL SWING
The fluke have taken up their summer residance in the local structure. Fish the sticky stuff and you'll be rewarded with some nice summer flatties. Gulp and bucktails/jigs are proving deadly. As are fresh fish baits.

SEA BASS ALL OVER THE INSHORE PIECES
The local reefs, wrecks and rockpiles are holding plenty of sea bass life along with nice jumbo scup. It's been up and down fishing. Summer fun.

EXCELLENT TRIGGERFISH SEASON
This summer has seen some of the best triggerfish catches in a long time. These fighting fish are fun to catch and even better to eat.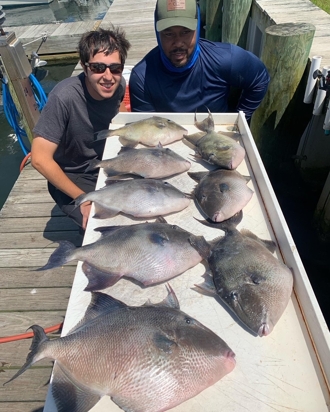 FLUKE FISHING REMAINS STRONG
FISH NOW CHEWING IN OCEAN
While the bay fluke fishing remaines very good, the past week or so saw the ocean bite kick into gear. The summer flatties are taking up their residence on local pieces and offshore hard bottom. It's time to do deep for the jumbos.


SEA BASS OPEN STRONG
MIXED BAG ON BOTTOM GROUNDS
The sea bass were waiting for us opening day. With NY's 3 fish bag catching a limit is pretty easy. Fortunately there are other bottom dwellers to catch as well - namely scup, cod and ling. So everone is taking home full bags of tasty fillets.


GOOD TIMES ON FAMILY FUN TRIPS
My half day family fun trips have had happy anglers enjoy excellent fluking in the bay. Lots of shorts to keep everyone on their toes and plenty of keepers for the dinnere table. These calm water adventures are fun for all.


BLUEFISH MAKE ANNUAL MAY APPEARANCE
The blues have invaded the inlet and bays as they do every May. This provides fun light-tackle action as they can be taken on jigs, plugs or on fluke rigs as they harrass the bucktail and Gulp baits.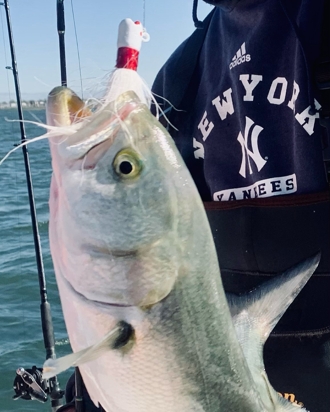 BACK BAY FLUKING OFF TO A SOLID START
The fluke are up in the bays in the warmer water. They're feeding on grass shrimp. Guys who are using small bucktails and small GULP are scoring better than bigger baits and traditional rigs. End of incomming and outgoing water best tide.


MAY CODFISHING REMAINS STRONG
The codfish bite continued into May with nice catches of baccala on the local reefs, wrecks and rockpiles.

APRIL CODFISHING EXCELLENT ON LOCAL PIECES
April saw the codfish taking up residence on all the local inshores pieces. Nice sized market sized fish up to 10lbs.


THAT'S A WRAP
Well my season got cut short due to engine issues in mid-November. Time to repower. Will be back ready to roll in the Spring. I want to thank everyone who fished with me this season. Lots of old friends and many, many new ones too. While the pandemic made life tough on land, I was fortunate to have a good season on the water. It seemed a little fresh air and fun fishing was a much needed relief for us all. Have a HAPPY AND SAFE HOLIDAY SEASON! Let's hope for a better 2021. Capt. Bob.

AND THE BITE GOES ON
November 10, 2020
The toggies have been in a feeding mood this entire week. Pretty much one stop shopping with the rods bent all day. Beautiful weather. Incredible fishing.

SUPER TOG BITE
November 5, 2020
An excellent stretch of weather for November and a crazy tog bite. Nice quality fish with the pool fish each trip around 7lbs.
Lots of action and limit catches. Fish biting on both tides. Starting to fish thew deeper drops.

BASS AND BLACKFISH
October 31, 2020
Excellent blackfishing continues. Also big schools of sand eels have the bass chewing. Fun light tackle jig action.
EXCELLENT BLACKFISH BITE
October 27, 2020
The fall blackfish season has gotten off to a strong start. I have been targeting local wrecks, rockpiles and reefs in the 50-70' range. And on days we can't get outside, there has been good blackfishing in the bay. Most trips result in a boat limit. Also catching striped bass in the bay/inlet both clam chumming and on artificials.

STRONG START TO FALL TOG
October 16, 2020
The toggies were waiting for us as the fall season opened. Lots of life with shorties along with some big reef donkeys. Two double digit fish were caught and released up to 12lbs. Always try to release the big ones so they can live to fight another day. Fish were hitting both traditional rigs as well as jigs.

FLUKE SEASON ENDING STRONG
September 15, 2020
The fluke bite has been excellent as we draw to the end of the season. Fishing ocean structure with jigs/Gulp have produced the bigger fish. Fresh fish baits working well too. Still some life in the bay with keepers in the mix.



SEA BASS, SCUP & TRIGGERS
MIXED BAG ACTION
September 13, 2020
The bottom fish grounds are alive with the usual suspects - sea bass, scup, triggers and more. The warm ocean temps should keep the hot bite going through the end of the month. Fun fishing only a short ride from the inlet.

SUPER OCEAN FLUKE FISHING
August 24, 2020
The fluke are set up on the local and offshore structure and are feeding aggressively in preparation for their fall migration. Lots of action with plenty of quality keepers taken. Most trips we are seeing in excess of 50+ fluke caught with limit catches for everyone. Hopefully this savage bite lasts well into September.

SOLID MIXED BAG ACTION
August 23, 2020
The local reefs and wrecks are holding a lot of life. Sea bass fishing remains excellent with quality knickleheads being caugh and limits taken on each trip. Porgies are everywhere. There are some triggers around too. Mackerel have made a suirprise showing along with some bonito. Fun summer fishing where you never quite know what you're going to catch.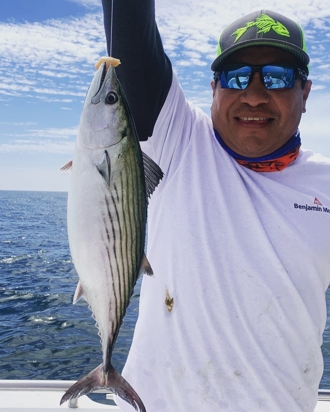 LOCAL REEFS & WRECKS ARE ALIVE
July 24, 2020
The ocean fishing has been outstanding with multiple species baing caught on most trips. There are lots of fluke on the local pieces. While plenty of shorts, enough keepers so limit catches have become the norm. Sea bass are still plentiful, albeit you must cull through lots of shorts. The scup have arrived in big numbers and provide up and down fishing. Starting to see triggers too.


EXCELLENT BAY FLUKING
July 10, 2020
Following the July full moon, the bay fluking really turned on. Lots of life with shorties keeping the rods bent and plenty of keepers too. This week we had many fish in the 4-5lb. class. Gulp baits tipped with spearing seem to be the ticket. These are great family fun trips fishing in calm sheltered waters.
SUPER SEA BASS FISHING
July 9, 2020
The sea bass were waiting for us as the 2020 season opened. We've been catching them at anchor on the high pieces or on the drift over hard bottom. Non-stop up and down action. The porgies are starting to show and the triggers can't be far behind.
OCEAN FLUKE BITE IS ON
July, 8,2020
The fluke are starting to settle in to their summer haunts along the reefs and rockpiles.Drifting depths anywhere from 50' to 80' has been producing excellent results. Gulp and fresh fish baits are producing better than just squid/spearing alone. Nice bi-catch of jumbo sea bass as well.
MIXED BAG ON THE LOCAL WRECKS/REEFS
June 8, 2020
The action is in full swing on the local pieces. It's been up and down fishing for ling, cod, out-of-season sea bass and scup which are starting to show up. Even had a few pollock and a nice white hake as well. We've been fishing drops from 50' to 90' of water. Fun action.

STRIPER AND FLUKE ACTION IN THE BAY
June 6, 2020
The bays and inlet areas are holding good amounts of striped bass and fluke. Bass are hitting artificials (bucktails and top water plugs) as well as being clam chummed on the tide. Fluke are up in the back in the warm water. Bucktailing increases your chances of hooking up with a quality flattie. The ocean fluke bite should be starting soon with the arrival of squid.
WE'RE CLEARED TO GO FISHING!!!
After a brief pause the 2020 fishing season has started. I've been doing to scouting trips and the bay is loaded with fluke and striped bass. Outside the local wrecks and reefs are holding cod, ling and the scup are starting to show. Don't forget, sea bass fishing opens June 23rd. Full day and half day charters available. I run an open boat when not chartered. Let's go fishing!

THE 2020 SEASON IS ALMOST HERE
Due to the current COVID-19 pandemic, NY State has delayed the start of the for-hire fishing season. I am hoping that we will be up and running sometime in May. In the meantime, I am taking bookings for the 2020 season. Full and half day charters targeting all inshore species. Hope to see everyone as soon as we can start fishing again. In the meantime, stay safe everyone. Capt. Bob

TOG CHEWING & BASS STILL AROUND
Novmber 11, 2019
The local blackfishing has remained solid. Better quality fish coming up.The fishing will only keep getting better as the water temps cool. There are still bass around, providing fun light tackle action on jigs and top water plugs.
14.2lb TOG
October 26, 2019
I had the pleasure of fishing with young angler extraortdinaire David on his boat f/v Aphotic. We had a fun day of togging catching a bunch of keepers on both jigs and traditional rigs. As the trip was coming to a close, David's rod doubles over. He was engaged in a tough battle with a big tog who inhaled a jig on a light spinning outfit. The fish made three strong deep runs, but after a few munutes David brought the fish boatside and I slipped a net underneath. The fish weighed in at 14.2lbs and was caught on 15lb braid and 30lb leader. As a true sportsman, David revived and released the fish and it swam away. The fish may qualify as a Junior World Record. Way to go David. A fish or a lifetime, but I'm sure there are even bigger tog in his future.
BASS AND TOG
October 24, 2019
When mother nature allows us to fish the ocean the bite as been outstanding. The migratory bass are righht outside our inlet. The tog are stacking up on the local structure. Fall fishing at its finest.
FALL FISHING IN FULL SWING
October 21, 2019
The bass are biting and the tog are chewing. Bass in the bays and ocean and the tog are all over the local wrecks, reefs and rockpiles.

OCEAN MIXED BAG ACTION
August 28, 2019
The August bite in the ocean has been excellent. Each trip we are catching a nice mixed bag of fish - fluke, sea bass, scup, triggers, blues and more. The fluke are starting to stacking up on structure and are feeding hungrily in preparation for their offshore migration. Gulp baits and light-tackle are the way to go. There is lots of bait in the water which bodes well for the fall run.
FLUKE BITE REMAINS STRONG IN OCEAN
August 12, 2019
Thje fluke have finally settled into their ocean haunts after a slow start to the season. GULP and fish belly have been the ticket. Lots of short life and keepers in the mix as well. Put in your time and you'll catch your limit.
OCEAN FLUKE BITE IS ON!
July 28, 2019
It's taken a while to get started, but the summer flatties have taken up their residence on the local reefs and wrecks. Put in the time and you'll catch your limit with plenty of nice sized fish in the 4 - 8lb class. Those fishing light with bucktails and GULP are scoring better than traditional rigs.
SUMMER MIXED BAG
July 18, 2019
The action is heating up along with the summer weather. The local reefs and wrecks are alive with sea bass, scup, fluke, ling and triggers are starting to show. Fun family light tackle fishing.
SUPER SEA BASS FISHING
July 4, 2019
The local sea bass fishing has been excellent both in terms of quality and quantity. We are catching them at anchor on small wrecks and snags as well as drifting hard open bottom. Non-stop rod bending action!

OCEAN MIXED BAG FUN
July 2, 2019
The local pieces and deeper hard bottom drops are producing more than just sea bass. Ling, scup, fluke and even whiting and cod are being caught in good numbers. Summer mixed bag fun fishing!

SEA BASS STRONG
June 26, 2019
The sea bass bite is off the hook, either anchoring on local wrecks or drifting hard bottom. Catch of the day was Jordy's 12lb cod.

SUPER SEA BASS FISHING
June 25, 2019
Finally we get to target and catch sea bass that have been stacked on our local pieces since mid-May. The bite is nothing short of phenomenal..Still plenty of ling being caught in the deeper drops. A few mackeral were taken as well. The ocean fluke bite is a little late this year. It should get started any day now. Summer fun fishing!!!

SOLID OCEAN BOTTOM FISHING
June 6, 2019
The local wrecks and reefs are alive with life. They are stacked with sea bass (can't wait until the June 23rd opening) as well as ling and there are still
some cod around. Porgies are making their appearance as well. The fluking in the bay has slowed but the ocean bite is starting to heat up. It should be in full swing in another week or so.
COD ON LOCAL WRECKS
FLUKE AND BLUES IN BAY
May 24, 2019
Found some nice cod action for Bob and Jordan. The guys caught 8 and kept 6. Nice market siz fish. More and more ling showing up as well. Fluking still good in the bay along with bluefish who are feeding on the schools of spearing moving into the area. Fun mixed bag fishing.
EXCELLENT BOTTOM FISHING
FLUKE STILL CHEWING IN THE BAY
May 20, 2019
The ocean reefs and wrecks are alive! Plenty of cod on them as well ling. Also had a few nice flounder and a bonus catch of pollock.Needless to say the pieces are stacked with c biscuits but unfortunately the season doesn't open until late June.Porgies should be arriving any day now. The fluke are still biting good in the bay and the blues are still chasing bait.
FLUKE & BLUES DOMINATE THE BAY
May 16, 2019
The fluke bite was a little off the past few trips due to the cold temps and all the rain. However, the bite should bounce back as things warm up a bit. There is lots of bait in the bay. That said, the bluefish have been ravenous, hitting all baits thrown at them (even tearing up thje fluke teasers). Fun fishing in the bay.
THE SEASON IS IN FULL SWING
May 10, 2019
Had a busy week on the fishing grounds. The fluke fishing in the bay is off to a great start both in terms of quantity and quality. The striped bass are starting to take up residence in the bay. The bluefish are making their traditional May blitz. The inshore wrecks and reefs are alive with plenty of cod on them. Stop wishing, let's go fishing.

OPENING DAY FLUKE SUCCESS
May 5, 2019
The fluke season opener was a good one! The fish were chewing throughout the tide. Over 50 caught with 9 keepers to 6lbs in the bay. Fun light-tackle action. The bite will only improve as the water temps continue to rise.
LOCAL TOG & COD
April 30, 2019
The spring tog season heated up as the water warmed up. The last week saw excellent catches, both in terms of quantity and quality. Pool fish in the 7-8lb range. A few cod and ling in the mix too. Sadly, the tog season is now closed until October, but still sailing for cod, ling, scup and sea bass (opens in June)
2019 SEASON ALMOST HERE!
Now booking Striped Bass, Fluke and Bottom Fish charters.Full day, half day and split charters available.

THAT"S A WRAP
December 10, 2018
Well mother nature with her extremely cold temps had me iced in at the dock the past few mornings. That said, the time has come to put a close to the 2018 season. It was another great year. I want to thank my customers, both old and new for sharing time on the water with me. It's my pleasure having you aboard. Merry Christmas. Happy Holidays. And Happy New Year to all! See you all again in April.
BIG TOG & BOAT LIMITS
December 3, 2018
The past few trips we found some bigger tog. Had a couple of double digits for Mark and Timmy O - 11 & 10lbs respectively. Also had an 8 & 7lber on that trip as well. Following day had fish to 6lbs. Boat limits have been taken on each trip. The fish are still on the local pieces.
TOG AND BASS
November 26, 2018
The bass bite on jigs is winding down with more and more smaller fish being caught. The tog bite remains good but the fish are moving a little deeper especially with the recent blast of cold weather.
BASS BLITZ
November 15, 21018
Founds acres of birds just outside the inlet with bass under them feeding on sand eels. Caught them on jigs and on top water plugs. Fun light tackle action.
LOCAL BLACKFISHING REMAINS GOOD,
BIGGER FISH BEING CAUGHT.
November 13, 2018
The weather windows have been too few and far between. That said, when I get out I've been putting my customer on solid catches of tog. Bigger fish have been coming up as of late and everyone has been taking home the limit of fish. Fish to 8lbs this week with may over 5lbs. The bite will continue for the next month or so. Jigs and conventional rigs working equally well.
img